Sorry, you missed out
We found them a forever home
Bay Cob Mare in Llandysul

irishcobs
Joined: May 2012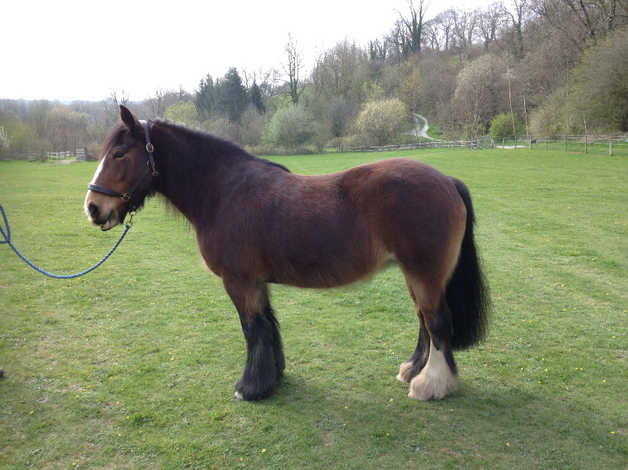 Description:
14hh, 10 yr old, bay, cob mare. Lots of mane and feather.
We bought Bow 2 yrs ago for my novice mum as a happy hack, she has been great but is completely wasted with us, she has a willing attitude and wants to do more. She is responsive to the leg and not a plod.
Bow is good to hack both alone and in company but can get a little nervous alone in new places. I have been working with her the last couple of weeks and her confidence in new places is growing, however due to me being to big for her I've only done short hacks so far.
She is very green in her schooling, she just hasn't done it. All we needed was something to walk and occasionally trot in a straight line, however she is willing to learn and picks things up quickly. Her canter needs work but she is getting there. She loves jumping but again is green with it.
Good to handle, teeth, farrier, jabs, etc all up to date. She is unshod and has good hard feet. Loads and travels in both a lorry or trailer. She's had clippers on her and was fine but we haven't had a need to clip her. Lives out all year round without a rug and no hard feed with another mare and a gelding.
Bow has been long reined in full driving harness but due to lack of cart hasn't pulled anything yet.