Sorry, you missed out
We found them a forever home
13.2hh Cob Gelding for Part Loan / Share in Whiteparish

Verified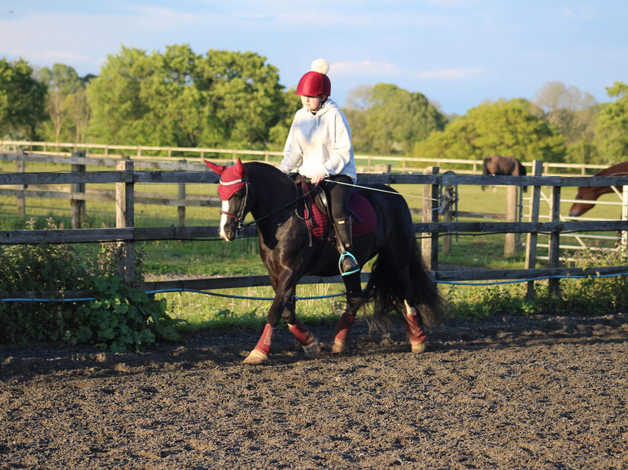 Description:
Looking for a little jockey to loan or share our very special little pony 3-4 days a week. He is suitable as a lead rein pony, a first ridden, or someone who just wants a super safe hack.

He is a 13.2hh 8 year old super cob gelding with huge personality and a temperament to die for. There's not a bad word to say about him! He's an angel on the ground, he can be led by tiny tots and stands to be groomed, plaited and dressed up in endless matchy matchy. He is absolutely bombproof out hacking (hacking is his forte) he may not be the fastest, but he's certainly the safest. Not at all phased by horses cantering off without him but is equally happy to tag along at the back for a little canter round the fields. Absolutely unflappable, whether it's in heavy traffic or in a field full of pheasants and he hacks out alone or in company.

He tries his absolute best in the school, and he will walk trot and canter and is starting to form a little outline. He is a bit lazy (much more kick than pull!) but he never says no. He's happy to be ridden bareback, tackless, backwards, through obstacle courses or whatever crazy idea pops into my daughters head next . Jumping however, just isn't his thing. He will try his best to pop over a small cross pole or pop a log in the field but he will never be a showjumper. If your looking for an SJ or XC machine, then he isn't for you. However if you are looking for a sweet, patient, quiet and gentle little pony who will always bring his rider home safe, then he is perfect.

He is very special, so we are looking for a little girl or boy who will love him as much as we do. A financial contribution will be required and any basic yard duties would be greatly appreciated. There may be the opportunity to tag along to some local shows for the right person.

Based on a yard in Whiteparish, just outside of Romsey with an outdoor floodlit arena, stunning off-road hacking, indoor stables and tie up area, wash area and lovely people who are always happy to help.