Sorry, you missed out
We found them a forever home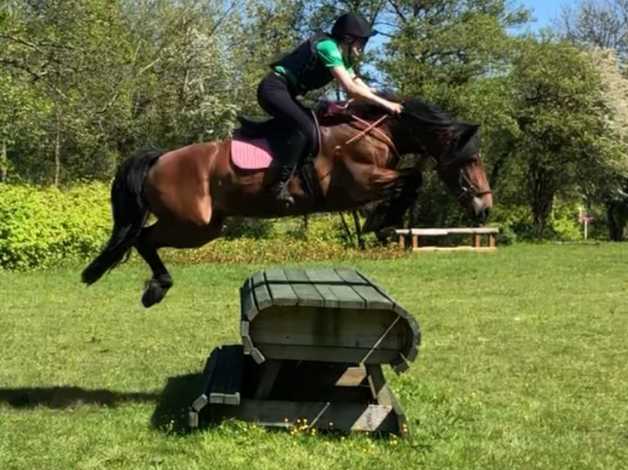 Description:
Bella is a 14.3hh mare
She's 11 years old
D.o.b 03.05.2008
she's a section D x Dartmoor however has no breeding recorded.
I have owned her for 6 years this year, she is really a lovely mare.
Bella is also a quirky mare and I will start with her bad point to save anyone the read if not interested.
She does need to travel with out a partition in a trailer, I'm unsure why this is myself, she was like it when I purchased her myself, she kind of leans and looses balance. However good as gold to travel without a partition.
She does also have scars on her sides And as a result I believe she'd be unable to show, these scars have been checked by a vet and in the whole time I've owned her, they have caused no issues what so ever.
She will also take a few days to settle into her new home, she's not a naughty or nasty horse what so ever, she just likes her routine.
Now for more about Bella... the good bits which out weigh.
She is an absolute gem to catch and in fact comes to call
Brilliant to clip, groom and tack up.
She is a forward ride who really really does enjoy her work!
She's great hacking alone or in company may have a look at something however it's nothing more than a jump to the side, will go infront or behind and isn't faced by traffic.
She has jumped a 3 foot course with ease
Bella isn't at all strong in anyway while doing anything and is quite level headed.
She has been used by a hunts master for the last season of hunting and just loved it
She has also been on fun rides and beach rides
She has seen xc jumps and has been to a clear round where she jumped everything put in front of her. She really is just out to please!
I believe bella would really suit a pony club home or allrounder home that wants to give everything a go. She's a brilliant pony, absolutely adores her jumping!
She isn't a smooth ride and has quite a choppy trot, however a lovely canter to sit!
She's happy to walk through streams, get on and off to do gates (will stand to do them off her also) however I'm pretty useless and always dismount her to do them.
Happy to stand for traffic to pass on narrow lanes.
She's good to ride and lead off another horse, or lead another off her.
She's up to date with everything
She is fab in the field with other horses
She's the type of horse that will go all day! She is an absolute fab ride. I adore riding her. She is good to bath, good for the farrier, just tie her up and let the farrier get on with it normally because she knows how to behave!
I love this girl to bits, the only reason she is being offered for sale is that I have to reduce the amount of horses I have. And unfortunately she is one of the ones I have decided to sell, the decision hasn't come lightly. I love her to bits and with her being such a fun loving mare, she makes it that much harder! 5**** home for my gorgeous girl. Home is most important.
Plenty of pictures available one request!
She is for sale as she is with NO tack or rugs. She's a lovely mare that would do well in an all rounder home. She enjoys jumping most.