Sorry, you missed out
We found them a forever home
16.1 tb gelding 8 years great project in Mountain Ash

charl_142
Joined: Sep 2008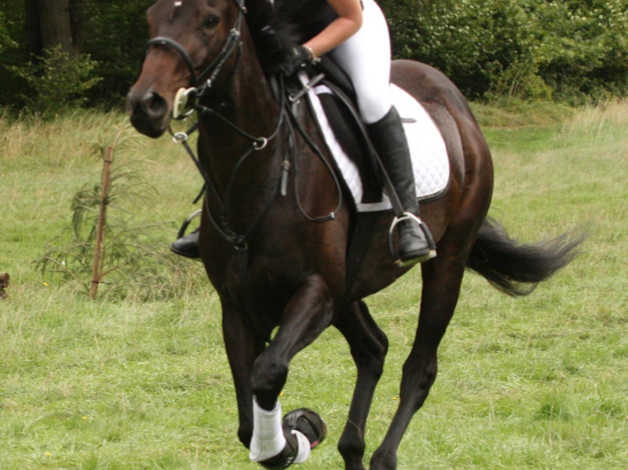 Description:
16.1 dark bay 8 year old Irish tb gelding (superb breeding) very honest ad as he will only b sold to the perfect home for him !!

Jaffa is a typical forward going, quirky thoroughbred he's great to handle on the ground absolutely loves a fuss will follow u round the stable or field for attention , he will walk himself on to any horse box without looking twice, he's very easy to catch in the field he just comes running, he currently lives in at night out in the day and holds his weight lovely, hacking out he is very bold and forward going will go at the front or the back , he will stand like a rock to b mounted, he's great with all vehicles from big double decker busses to lorries, quads and motor bikes he's not spooky in the slightest I've never know him to look or spook at anything at all !! He does prefer to hack in company he suffers with separation anxiety and he does get stressed and very vocal when hacking alone he doesn't nap at all and settles after ten mins with a push forward, He's got a lovely soft mouth and he's a very responsive ride, he does get extremely strong and very excitable on grass and does throw the odd tb tantrum therefore this needs work and an experienced rider , he is green and hasn't done much at all he's never been schooled as such and wld b a great blank canvas for someone he hasn't done a lot of jumping we have popped a few logs out riding and he had a go at a few on the Cirencester fun ride last year, he's only been used as a happy hacker the last few months but has potential to go far in the right hands. can come with his full wardrobe and tack at extra cost. Jaffa needs a confident experienced rider he is not a novice ride and needs someone who can really bring him on this is a really sad sale of my beautiful boy and he's only for sale due to change in circumstances !!! he will only go to the best of homes so please no dealers, hoof kickers or day trippers !! Lots more photos and videos on request
Ynysybwl area only 5* homes need apply cause he will not b sold to just anyone !! I wld rather keep him than see him in the wrong hands !!!