Sorry, you missed out
We found them a forever home
Stunning yearling mare prospect in Bodmin

liarev123
Posting for 4+ months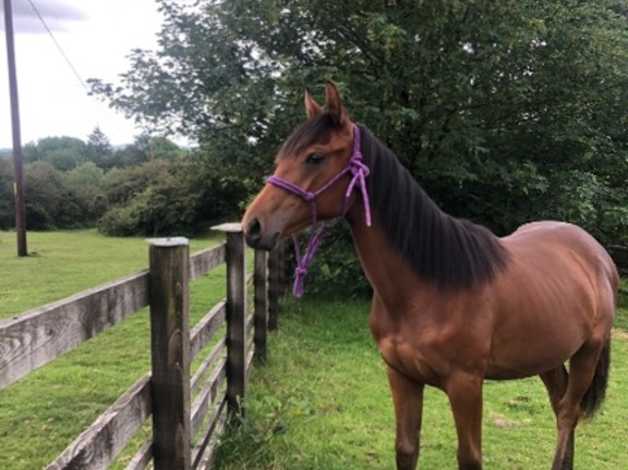 Description:
NAHLA'S PRIDE

I have made the sad decision to put my beautiful girl Up for sale/ loan due to personal circumstances. Only SERIOUS enquiries please as this is already a tough situation for myself.

Perfect for someone who would love an eventing prospect/ project

My stunning Nahla is a bay Thoroughbred X Connie filly who turned 1 in April. She currently stands at 14.3h and is expected to reach 16.3h (or above) considering her rate of growth at the moment.

Despite being a moody mare now and again she has the attitude and temperament of an angel. She is the most easy going 1 year old I've ever seen. She stands for the farrier, comes to you out in the field to be brought in, brilliant to lead, has lovely manners and is very respectful of space. She walks right in to the trailer and loves fuss. We have also started her road training and is absolutely astounding with traffic. Not a lot fazes this little lady and she's impeccably brave. (Video included of her out on the road for the first time).

She would make an exceptional eventer or show jumper in the near future. She has beautiful paces and has good breeding. Unfortunately I have lost contact with her breeder so am unable to find out her sire and dam. Although just by looking at her, you can tell she comes from a stunning background.

Nahla has an abnormally large udder (one side) and has had vet visits to get this sorted. She has had a biopsy which was sent to a professional university sector where it was cultured and analysed. She's also had a scan. Luckily It is non cancerous and non tumorous but rather a build up of hormones. This doesn't hurt her nor affect her paces and should go down as she gets older. All previous vet reports are available (I will also include pictures below)

As stated, this has been a tough decision for me. I had big plans for this little lady but sacrifices have had to be made on my part. This is due to no fault of her own and only 5* homes will be considered. All of her wardrobe will come with her.