Sorry, you missed out
This ad has already gone. Better luck next time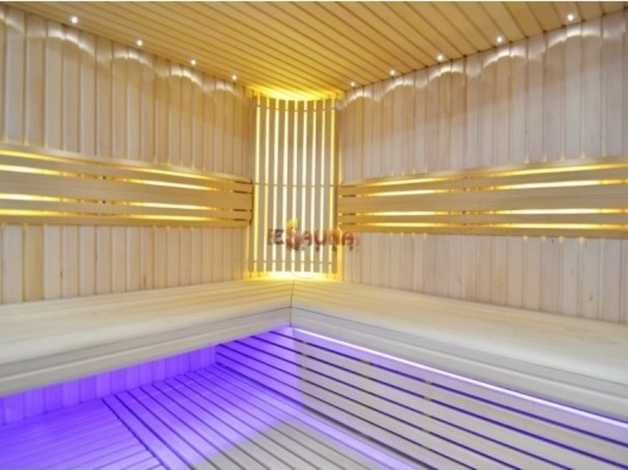 Description:
A sauna is a heated area, where a body heating of the person inside the sauna is produced. You've probably seen a traditional sauna at the local gym, spa center or health club. But have you ever thought of having one for yourself? There are lots of positive aspects to have one at home: you don't need to spend extra money to have a pleasant time, relax and ease the muscle/joint pain. You can spend time with your friends in a pleasant, warm atmosphere and see the look of envy and surprise in your friends' eyes.
It's been known for thousands of years in various cultures, that body heating has highly beneficial relaxing and healing effects. As the body warms up, circulation of blood enhances, and you begin to sweat.
By enhancing the blood circulation, heating the tissues, and causing sweating, saunas produce numerous health benefits and also a relaxation of a body and mind. In some countries people like to have a cold bath or shower straight after coming out of sauna in order to increase the healing effect (this should be reached gradually). Most of those who have tried the sauna for the first time, say that it is a feeling of being re-born.
In our e-shop you can find various saunas, wood-burn, electric, infrared heaters, accessories for saunas and relaxation under your demand.
If you decide to have your own sauna, we can install it in the building or outside area, from your drawing (or prepared by us), from the floor to the top, according to your wish, or to upgrade the one that you already have to a higher standards, under your requirements.
In our shop you will find everything you might need for saunas, from various flavor essences, salts, whisks, accessories, up to the heaters, sauna cabins, etc.
Our professionals will advise you on issues, related to installing the sauna, using it or sauna accessories, or, if you express your wish, we can install a sauna for you.
We have a lot of experience in installing various types of saunas in SPAs, sports centers and clubs etc.
Visit our e-shop to learn more about products and services.