Sorry, you missed out
This ad has already gone. Better luck next time
Authentic Rare Sarkoy"Royal Medallion" Kilim Carpet in Sheffield

burborino
Posting for 11+ months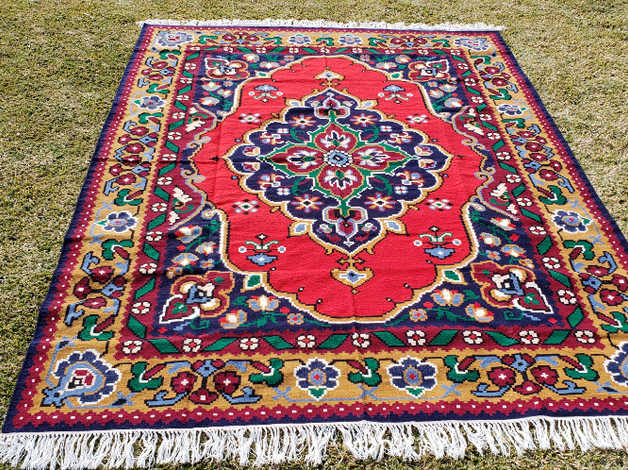 Description:
The Chiproski Medallion is the most beautiful,rare and difficult to find hand-woven kilim amongst all Sarkoy kilims.
Masterpice like this is highly valuable and sought amongst Sarkoy collectors.

The"Medallion" was forming a part of the bride presents for the new familly, as the old tradition was in the past time.
This kilim is hand-woven,wool on cotton,has not been used and I must say that is flawless piece of artwork that is no longer handmade since couple of decades.
The old ,antique kilims' measures from the19th century till beginning of the 20th century exceeded 2mt/3mt due to the big handlooms used then,so that taking in mind this plus the long fringes I omitt that this masterpiece could be dated even earlier than30's .

The kilim is very tickly handwoven,the colours are still bright,the fabric is with a fantasic quality and as the lady who I bought it from joked about the two identical sides -She said that" The Chiprovski kilims are two sides because each side is for at least 100 years daily using!"and she added smilingly that even my sons and grandsons will enjoy my purchase!


Dimensions:310cm/219cm
fringes each side 13cm


Very interesting facts about Chiprovski Kilims

The tradition of carpet-making in Chiprovtsi

Bulgaria

UNESCO
Inscribed in 2014 on the Representative List of the Intangible Cultural Heritage of Humanity

Kilimi are hand-woven carpets made by the women of Chiprovtsi in north-eastern Bulgaria. Almost every household in the town contains a vertical handloom, which the women use to make two-sided tapestries traditionally utilized as floor coverings. The weaver takes several threads of the warp with her left hand, interlaces the weft yarn into the warp and uses a small beater to tighten the weave. The men of the town typically engage in wool production, processing and dyeing. Naturally dyed yarn gives soft pastel carpet hues, while chemical dyes produce brighter shades. The finished carpets are renowned for their composition, ornamental motifs and colour. Carpet weaving goes hand in hand with beliefs, verbal formulae and ritual practices. The weavers say prayers and make wishes for success before starting a new carpet, and sing and tell stories while working at the loom. The process of transmission occurs informally from mothers and grandmothers to daughters, often while working together on large carpets. Carpet weaving is deeply integrated into the social and cultural life of the population. The best-known forms of ornamentation are reproduced throughout the community and even constitute the coat of arms of the town.