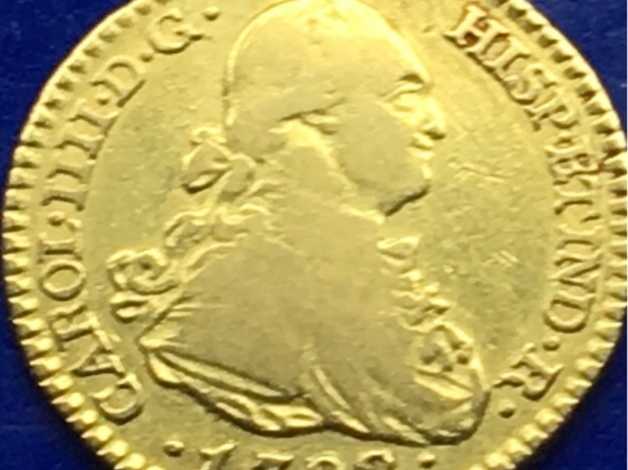 Description:
King Charles IV 22ct Gold 1 Escudo Spanish Colonial Gold Coin Spanish Doubloon 1792.
For sale:
A brilliant antique 22ct gold 17th century Spanish Doubloon dated 1792.Depicting the bust of the Spanish colonial King Charles IV of Spain.
A lovely solid 22ct gold full 1 Escudo coin also known as a piece of eight.
On the front can be seen the bust of the Spanish King Charles Iv Carlo llll. DG.HISP.ET.IND.R.- Charles the 4th king of Spain.
The reverse shows the Kings crown & shield & in writing IN.UTRO. FELIX A.D.MF.
The coin is in excellent condition considering the age-(V.F) & would make a lovely addition to any numismatics collection.
The coin weights a total of:3.4g.
Composition:22ct Gold.
Diameter:18mm.
Denomination:1 escudo.
A lovely gold antique piece of numismatics history a wonderful solid gold Spanish Doubloon.
The item is in excellent condition & comes with special delivery & display case.
The item is sold as seen.
Postage available.
PayPal accepted.