Sorry, you missed out
This ad has already gone. Better luck next time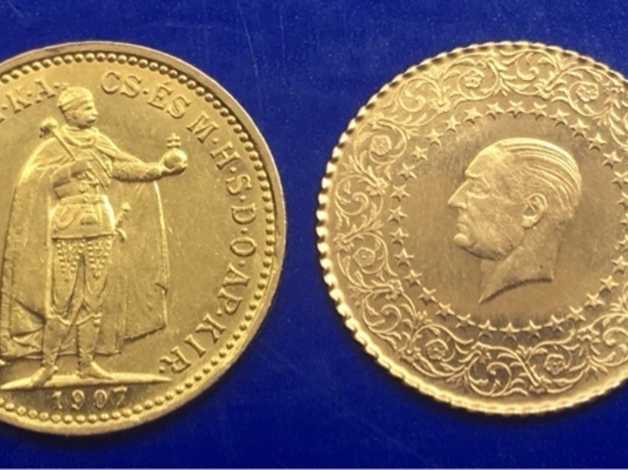 Description:
Job Lot 22ct Gold Antique Coins 1xGold Escudo Dubloon & 1x10 Korona & 25 Kurush.
For sale:
Coin 1:
King Carol IV 22ct Gold 1 Escudo Spanish Colonial Coin Gold Doubloon 1792.
For sale:
A brilliant antique 22ct gold 17th century Spanish Doubloon dated 1792.Depicting the bust of the Spanish colonial King Carlo IV of Spain.
A lovely solid 22ct gold 1 Escudo coin also known as a piece of eight.
On the front can be seen the bust of the Spanish King Iv Carlo llll. DG.HISP.ET.IND.R.- Charles the 4th king of Spain.
The reverse shows the Kings crown & shield & in writing IN.UTRO. FELIX A.D.MF.
The coin is in excellent condition considering the age (V.F)
The coin & would make a lovely addition to any numismatics collection.
The coin weights a total of:3.4g.
Composition:22ct Gold.
Diameter:18mm.
Denomination:1 escudo.
The item is in excellent condition & comes with special delivery & display case.
The item is sold as seen.
Coin 2:
King Franz Joseph 1st 10 Korona King Of Hungry Antique 22ct Gold Coin 1907.
A beautiful antique 22ct gold king Franz Joseph the 1st Emperor of hungry solid gold 10 korona coin in excellent condition.
A wonderful 19mm wide antique solid 22ct gold Hungarian 10 korona piece in excellent condition.
King Franz Joseph was the emperor of Austria & king of Bohemia & King of Hungary 1848- 1916.
The front of the coin depicts the king in robes holding globus & scepter with sword & written in Hungarian King Franz Joseph 1st.
The reveres displays the kingdom of hungry in Hungarian with denomination 10 koronas & a crowned shield with angels. Denomination-10 koronas.
Weight:3.4g.
Diameter:19mm.
Quality:U.N.C.- uncirculated.
Date:1907.
Condition:excellent.
Gold content:22ct gold.
The item is sold as seen & includes display case & special delivery.
Coin 3:
22ct Gold 25 Kurush Solid Gold Turkish Coin Bust Of Kemal Ataturk 1.8g.
A beautiful 22ct gold Turkish coin dated 1970's depicting the bust of Kemal Ataturk facing left.
A wonderful middle east coin from the Turkish republic.
The coin was minted at the Turkish mint & dated 1970's & struck in solid 22ct gold. The obverse is in Arabic & contains 40 gold stars & is dated 1970's.The coin has a lovely boarder.
The coin measures exactly 18mm in diameter & a excellent strike.
The coin weights a total of:1.8g
Country:Turkey.
Year:1970's.
Metal:Gold.
Denomination:25 Piastres / Kurush
Diameter:18mm.
Weight:1.8 g.
Series:Monnaie de Luxe.
Grade:Unc-uncirculated.
The coin would make lovely addition to any numismatic collection.
The coin is in excellent condition & is sold as see & comes with display case.
Postage available.
PayPal accepted.