Sorry, you missed out
This ad has already gone. Better luck next time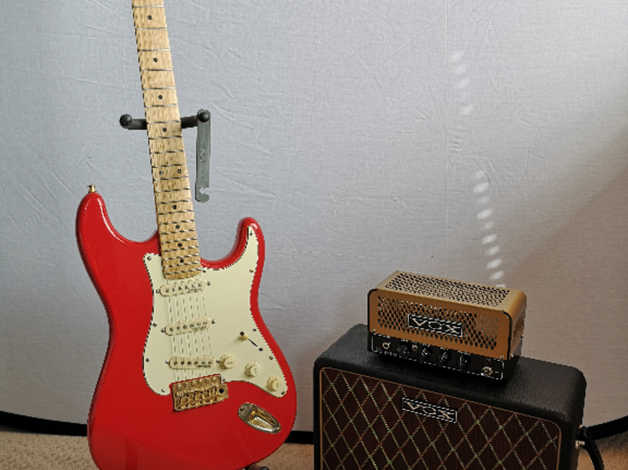 Description:
This set up is all you need to get going in the world of guitar playing.

The guitar is a Stratocaster type guitar, not branded but set up and refretted by Reloved Guitars in Tavistock, Devon (look on eBay). It has also just had the electrics professionally overhauled, and is all in great working order. It has well regarded Wilkinson pickups and tuners and is a great beginner instrument. It isn't in perfect condition, with some crazing in the lacquer on the headstock, but over all is great for age.

The amp is a Vox Li'l Night Train valve amplifier, rated at just 2 watts you can get a wide range of tones out of it from clean and jangly pop to down and dirty rock/metal at bedroom volumes, but turn it up and it is still plenty loud enough to annoy the neighbors! It is in excellent condition, and has been very well looked after.

The price is for both items and a Fender Guitar cable, everything you need to start playing. and I will even throw in a free guitar lesson with one of the best guitar teachers in the Torbay area worth £26.

I will consider selling the two items separately, the Guitar for £140 and the Amp for £230. Both of these compare very well to current prices on eBay and similar.

Please note that I will not accept any form of payment for this other than cash in hand. There are too many scammers about these days and too many ways to rescind electronic payments to make it worth the risk. These items are in Paignton, Devon and unless you are in a position to come and pick it up from me I'm sorry but I will not accept any offers.