1999 6 Berth Motorhome Fiat Ducato 2.8dTD in Barry Barri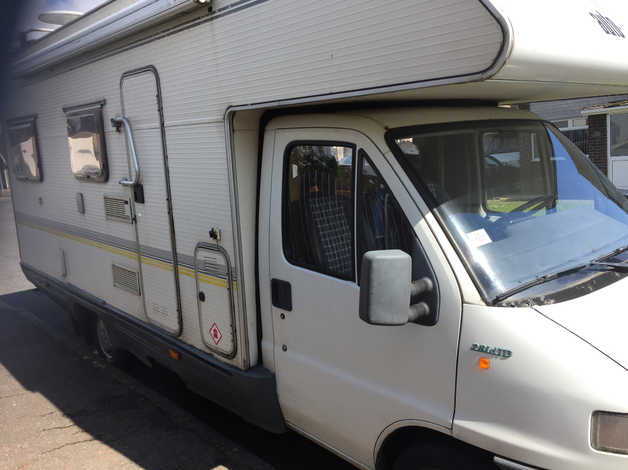 Description:
1999 6 Berth Fiat Ducato 2.8dTD Turbo Diesel Autoroller Motorhome

Good points:

Very dry, extremely roomy, cooker and fridge in working order as are all the interior lights. A solar panel on top keeps the leisure battery nicely charged (as well as the newly installed split car charging system to power fridge on the move etc).

Rear lounge layout which is ideal for parking next to the sea and enjoying the views.

2 TV's, but aerials need tweaking. Loads and loads of cupboard space, 2 wardrobes and lots of overhead cupboards. Low millage (63,500 miles). Has had oil changed every 3000 miles over the last 3 years. Water system in working order with sink and washbasin shower in bathroom area.

3 double beds, overhead, rear and central convert to doubles.

Underneath, the vehicle is in fantastic condition, being regularly undersealed and is mechanically sound. Engine is excellent, very robust and is the larger 2.8 as opposed to the 1.9 which means good cruising speed on motorways.

Have also fitted a large reversing camera which comes in very handy.

Rear bike rack, tow bar and overhead roof rack fitted.

2 internal gas bottles nicely stored in side compartment externally to cabin.

Also supplied with front window silver privacy screens.

Side awning winds out and is fully adjustable.

Long MOT remaining.

Areas to note:

Bathroom is showing its age with several cosmetic repairs having been carried out, but in working order.

Hot water and central heating not working (may just need a service). Have lowered the price to reflect this as it may cost between £100 and £300 to put right. I just haven't the time to do this at the moment.

Some other minor interior and external marks for age.

Owned for 3 years, selling due to kids grown up.


Definitely recommend a viewing
Thanks for viewing!