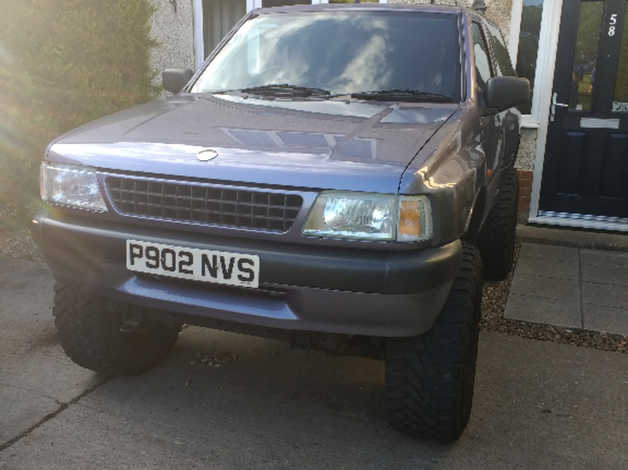 Description:
Vauxhall Frontera sport 2.8TDI isuzu engined 1996

It has a genuine 66k miles with all old MOT's to back this up.
I Bought it on 42k miles and have serviced it every 3k miles as recommended on the frontera owners forums. I have most receipts to back up all work done and a log in office Excel that I kept and will print.

Runs very well, and has to be the most solid frontera A series out there, other than one bumper corner there is no rust, Underneath is totally original and rust free having been garaged until I bought it.
Never done off roading,which was my intention,but never got round to it.
Genuine reason for sale.

Since I have owned it its had the following:

33" Toyo mud tyres + a brand new spare for the back door but currently removed as I prefer it without.
3" body lift + brake pipes and random pipes replaced to match the lift.
3" bumper lift plates from xpajan offroad
3" Steering extension imported from USA at over £100 to keep it safe.
2" lift springs and 2" rear shocks to match
3.1 Isuzu solid flywheel and 3.1 exedy clutch kit
Isuzu trooper 3.2 petrol diffs , Rear is a Limited slip and works perfect with correct LSD oil.
Full electric fan conversion fitted properly, Will come with viscous if wanted.
All fluids, gearbox transfer box, diffs ,brakes etc all changed.
Full cambelt kit changed at 48k miles + water pump
All ball joints upper and lower changed + steering idler,
Clutch slave cylinder and master cylinder replaced for peace of mind,
Brake master cylinder was rebuilt with new seals from biggred M1777 kit
Heavy duty battery
New starter motor
Low pressure electric fuel pump for priming after diesel filter changes, Makes changes quick by just flicking a switch for a minute.
Most seals including the front main seal by cambelt replaced with genuine bosch again for peace of mind, Will come with the rest of the pack of the odd few that were never fitted.
Boost gauge on dash which doesn't look pretty but was put on to make sure it was boosting at stock boost.



All rear windows sprayed black inside,looks nice outside, this will come off very easy if wanted.
Years MOT as from this afternoon 28/05.
Starts first time, and drives very well
The passenger side has a few scratches on the rear quarter.

Cash on collection ONLY , it is still taxed and insured so can be driven, still using it for work.