Sorry, you missed out
We found them a forever home
5 Months old Blue and Gold male Baby Macaw - Silly tamed and trained in Slough


maniacuzi
Posting for 3+ months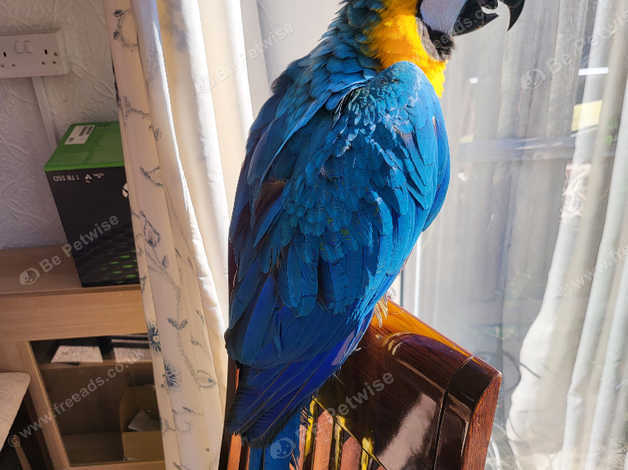 Description:
Price is STRICTLY NON NEGOTIABLE PLEASE as this super intelligent baby Macaw is a very rare find and an absolute bargain for this price.

My 5 Months old baby macaw, Rio, is microchipped, fully feathered and he is an absolute beauty who loves to play, cuddle and train.


Eats baby formula and mixed fruits and steamed vegetables throughout the day. Nuts/seeds reserved for training only. Raised in a family home so good with kids and adults.

Harness trained and started going on short walks outdoors. Steps up and being recall trained so flies to me. Extremely intelligent and a very very quick learner. Learned to step up and fly on recall with just 2 days of training. Has an insane amount of potential to learn all the tricks in the world.

Absolutely loves to play and cuddle all the time and very silly hand tamed.

Absolutely gutted to let him go. Sadly my wife doesn't want to have a large flying bird in the house and I am very much against clipping wings and confining such a beautiful big bird in a cage all the time. I was actually planning to train him to free fly and I would like to sell to someone who would do the same and not clip his wings or confine him in a small cage all day.

So please only contact me if you have done your research and you definitely have the time and the space that this beautiful specimen deserves.


Not included in sale but open to offers, I have :

A custom built tripod perch stand where he normally chills when outside his cage.

A large daytime cage for the living room

A smaller night timecage which I have put in a quiet room so he can get a good night's sleep without any disturbance.

Please contact me via WhatsApp if you'd like to see more videos/photos of him playing, flying, cuddling and just being silly.