Sorry, you missed out
We found them a forever home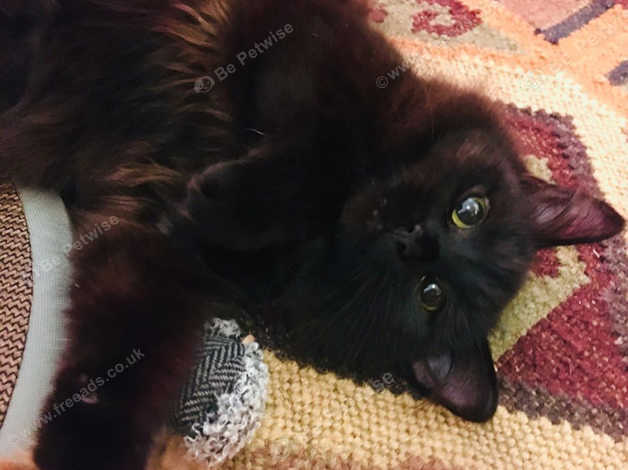 Description:
This sweet, friendly, cuddly and gentle kitten now needs a loving home, for genuine reason. He is a fabulous little cat who charms everyone with his looks and personality.

He is a cross from his full Maine Coon mum who had a unplanned encounter with a local moggy. He exhibits physical characteristics typical of the breed: tufty ears and paws: semi - long hair and a wonderful bushy tail. He has such a sweet and adorable little face.

He is playful, but not manic and will happily amuse himself with his scratch tree and toys. He is respectful and non- destructive in the home, loves all food, uses his litter tray and is an all-round well - behaved boy. He is laid-back and relaxed and loves chilling after his play sessions.

He is extremely affectionate and will greet you with cuddles and nose kisses. He loves to be picked up, carried and snuggled. He is sociable and confident in new situations and with new people. A really happy little cat who constantly purrs with contentment.

He has lived with young children and other cats, dogs unknown. He would fit very well into a family home and equally suit a quieter environment e.g. retired person or working from home. He would make a great companion animal with his sweet and gentle presence and love of human company.

He is six months old, has been neutered and is up-to-date with flea and worm treatments. He truly deserves a great home where he will be loved and fussed.

Adoption fee to cover costs and ensure serious enquiries. Will come with two litter trays and a generous supply of food if required.