Sorry, you missed out
We found them a forever home
Kittens ready to leave - halstead area in Great Yeldham Steff Bootle
Posting for 11+ months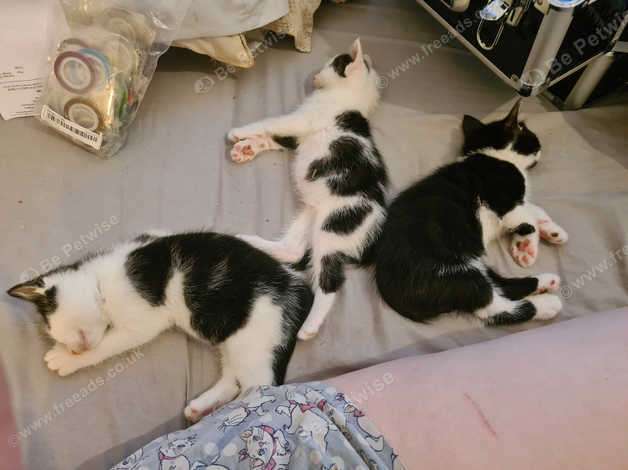 Description:
Available we have 2 adorable kittens - 1 male and 1 female. There is 3 more from the litter, but they have already gone to their forever home - these 2 are ready to go now too.


All of these kittens have developed amazing personalities and are just so affectionate and cuddly and love to play. I personally spend alot of time with them and have been handling them so they are very used to be held. They are all fantastic with children, i have 2 children a 9 year old and a 2 year old who both spend alot of time cuddling them too.

All kittens are now eating Tuna and meat and a fully litter trained barring a few accidents. Worming has been done and defleeing treatments will need to be done at 8 weeks.

We have introduced the kittens to our 20 week old pup, as she was very bouncy it didn't go to well. Mumma cat is always about and keeping them in check.

All kittens have been given temporary names purely for identification purposes
The boys are Onyx and Pinney and the girl is Bow.

Pinney is very quiet, nothing really fazes him. He just kind of takes things in his stride. He's happy on his own and he's happy having a cuddle. The introduction with the dog was fab, he didn't care at all, even when the dog stroked him he wasn't fazed.

Bow is a typical girl, she loves her cuddles and will often run up for a cuddle and she loves being mischievous. She has the most adorable eyes and can just be the cutest. I think her brothers are bad influences as she copies whatever they do. The introduction to the dog wasn't too bad either, a little hiss but nothing major.

I have grown very attached to these little beauties, and it will be sad to see them go. But they deserve to go to someone who will give them all the love and attention they deserve.

More pictures are available on request, i have so many I've lost count.