Sorry, you missed out
We found them a forever home
Domestic Shorthair Kittens in Downton

NewForestPony
Posting for 2+ years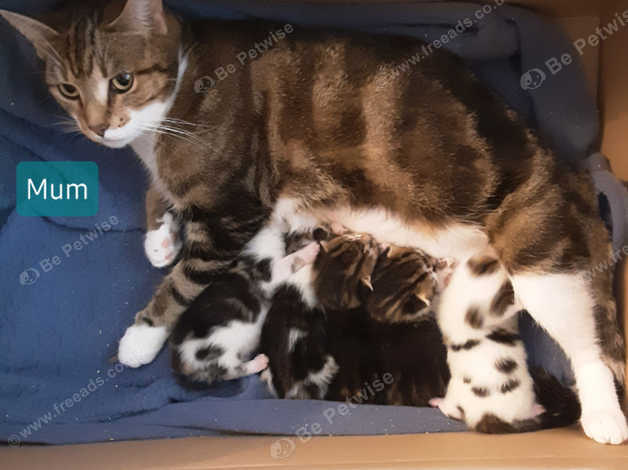 Description:
Price includes a new cat carrier, blanket, Lily's Kitchen trays, box of Sainsbury's Kitten pouches, tray of Wild Freedom Kitten tins, a bag of Scrumbles kitten biscuits, a bag of wood pellets litter.

Born 03/06/21 Mum, dad and grandparents are family pets and can be seen with the kittens. Socially distanced viewing possible.

Mum is a tabby and white Heinz 57 with Norwegian Forest Cat and Bengal in her ancestry. She is very independent.

Dad is a black and white pedigree Havana x domestic short-haired. Oriental build and temperament and very chatty.

Grandmother (on mum's side) is a brown marble tabby and white pedigree Norwegian Forest Cat x Domestic Shorthair. Extremely friendly and cuddly.

The kittens have been brought up underfoot in a multi-cat household and are used to children, dogs, and everyday household activities.

They are fully litter trained and are used to using, open, covered and litter robot trays and a variety of litter types including wood pellets, World's Best and Catsan Hygiene.

They are mostly fully weaned from Mum but are still sneaking a feed or two a day. I give them a morning and evening bowl of Cimicat kitten milk.

They are eating mainly wet food and are currently eating Lily's Kitchen trays (all flavours and textures), Wild Freedom tins (kitten and adult varieties), Sainsbury's and Tesco meaty chunks in jelly and gravy pouches, and Sainsbury's meaty chunks in jelly tins. They have free access to dry biscuits, mainly Scrumbles (kitten biscuits and adult chicken) and Harringtons Complete (chicken) they were also eating Crave biscuits.

The kittens are well handled everyday and are used to being picked up, cuddled, groomed, claws inspected and tips clipped, ears and eyes being checked and teeth inspected.

They happily sleep snuggled up on a lap or warm feet, often found snoozing on top of the bookcase or curtain rails.

They have been wormed, I do not regularly treat for fleas only on the extremely rare occasions the dog brings one back. They have not had any vaccinations or been neutered.

Girl A, Dark marble tabby girl. Lovely sleek silky coat. She likes to snuggle up on a lap, very gentle, fast, likes running and climbing.

Girl B, Marble tabby and white girl. Fairly petite, like to sleep high up. Extremely gentle and purrs a lot.

Boy A, White with tabby spots. Extremely striking markings a bit like an appolosa horse. Quite a big cat, very gentle, loves his cuddles

Boy B, Marble tabby and white boy. He is a big cat, quite cuddly.

Boy C, Marble tabby and white boy tabby toes. The smallest of the brothers, very gentle and cuddly.

Please message me in the first instance telling me about the home you are offering and what you are looking for in a cat. Some of my kittens prefer to be indoor cats, some outdoors, some are dependent lap cats and rarely some are very independent and only see their people as providers of food.

I do not let kittens go on a first come first served basis and you are welcome to visit the kittens as many times as you like while making a decision. I do not take deposits and only ask that you let me know if you decide against having one of the kittens so the next in line can come and view them.