Sorry, you missed out
We found them a forever home
UNIQUE BLUE-CREAM LYNX BICOLOUR GORGEOUS SWEET RAGDOLL GIRLS in Reading

BerkshireRagdolls
Posting for 11+ months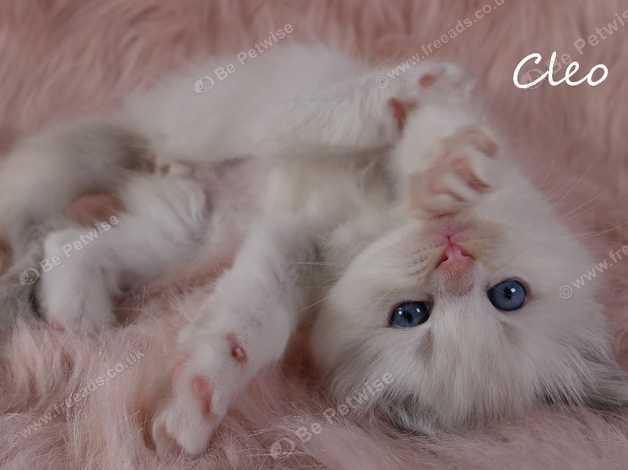 Description:
BLUE-CREAM LYNX BICOLOUR GEOURGEOUS SWEET GIRL

Gentle and super affectionate , sweet, gorgeous girls , Cleo and Chloe looking for new
They are unique, blue-cream (blue tortie) lynx bicolour with beautiful markings and amazing temperament.

All boys reserved.

Only 2 girls left from this litter

Truly amazing blue & cream-blue bicolour pedigree Ragdoll kittens available from a TICA registered ethical hobby breeder, passionate for breeding purebred quality Ragdolls for their lovely temperament.
We show our cats to qualify with the breeding standard. We put our heart and soul in breeding these wonderful Ragdolls and strive to improve the breed.
We are based in South-East England, Reading Berkshire.
Both parents are amazing examples of the breed and imported to achieve a diversified gene pool and unique looks: mum is from Russia, dad is from Italy with excellent pedigree and temperament. Mum's both parents are champions and she has got plenty of international champions in her blood line. Dad's got some champions in his line as well.

Both parents have been tested NEGATIVE for all genetic diseases recommended to be carried out on the Ragdoll breed by the GCCF. We are happy to show paperwork as a proof.

We are small hobby breeders, free from FIV/FELV.

All kittens undergo a complete veterinary health check before going to their new homes and are fully healthy.

All of our fluff 'balls' have been raised ethically on the best quality food, groomed and socialized in our loving home, familiar with all sorts of noises and handled since birth. We treat them as if they were our human babies with much love, care and attention therefore, we are looking to place them only to special homes where they receive the same.
We require new owners to keep in touch with us and update us about the well-being and development of the kitten until they are 12 months old via email.

Ragdoll kittens are strictly indoor, sofa cats and can only be outside in a secure catio/garden. They have a lovely, dog like personality and they are preferably for homes where they will not be left alone for extended periods of time. They need the company of another human or a cat. Please make sure that you research into the breed before purchasing a Ragdoll kitten.

Please note, all kittens will be neutered before they leave.

Kittens will be ready to leave from 14 weeks, that is the first-second week of October.

All photos were taken by us. Please see names of kittens on the photos for reference.

All of our fluffy babies come with:

2 Years of health warranty against any genetic deceases
TICA registered (not for breeding)
A copy of 5 generation pedigree
A Copy of parents' pedigree
Vet checked
Fully vaccinated
Microchipped - registered under new owner's name and address
Flea and worm treated by the Vets as a precautionary
Spayed/Neutered
5 weeks free insurance
Litter trained
Scratch post trained
Really well socialized and loved to be handled
A folder with all the relevant paperwork
Extensive pack of high-quality kitten food
Some favourite toys
Advice sheet where to buy things for your new furry baby
Care sheet
Contract of sale
Regular update of kitten's development until the day of collection of a kitten
Photos and short video clips of kittens' development can be requested
Support for future owners of these gorgeous kittens will also be provided

Price of a kitten is £1700 PET, NOT FOR BREEDING. Can be show alter.
We do not sell kittens for breeding in the U.K.

If you wish to reserve one of these little fluff babies, we ask for a deposit of £300 non-refundable to secure your chosen kitten.

For more details, or if you would like to reserve a kitten, please do not hesitate to contact us either via email/text message or call us.

You are welcome to come and visit the kittens with the parents in our home. Alternatively, we can use video call (Face time or Whatsapp) to show you our kittens with Mum and Dad.

All of our updates on litters go on our Facebook and Instagram first before it gets advertised, for the latest update on litters please follow us on:


You will find many more photos and videos of our kittens and cats on the above links.

Thank you.