Sorry, you missed out
We found them a forever home
GCCF Registered Ragdolls in Plymouth in Plymouth


Belle-Amiche Ragdolls
Posting for 3+ months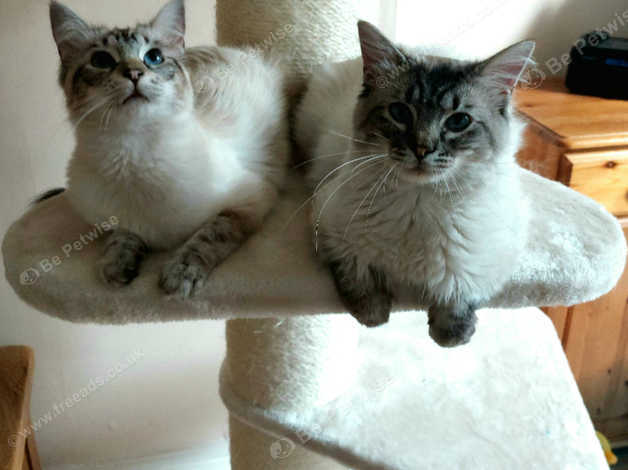 Description:
We are a GCCF (Governing Council of Cat Fancy) Registered Ragdoll Exhibitor & Ragdoll Breeder based in Plymouth.
We are Members of the Progressive Ragdoll Breed Cat Club and other breed related cat clubs.
As a family we are dedicated to our Breeding and Exhibiting programme to produce the very best type, health & temperament of Ragdoll. This is achieved through careful and selective breeding so we stay as true to Quality Ragdoll lines as possible, whilst ensuring we uphold genetic integrity.
All our feline Family are thoroughly Health tested.

Our cats are an important part of the family and as such live with us within our home.

PLEASE NOTE RAGDOLLS ARE STRICTLY INDOOR CATS ONLY.

We occasionally have kittens available.

Belle-Amiche Ragdoll Kittens come with the following:
-GCCF registered non-Active.
-Neutered/Spayed prior to departure to their new homes.
-All Primary Vaccinations will be completed prior to departure to their new homes.
-GCCF Official 5-year generation of pedigree Certificate
-5 weeks FREE Insurance
-Micro-chipped and registered to their new family.
-3 Health checks by our lovely Vet
-Treated against parasites
-Litter Tray & Litter Robot Training Qualification - Gold Level
-Used to the hustle and bustle of a family home, appliances, and our small dog.
-Fully weaned & feeding on quality food, with a small bag for you to either continue to use or to slowly change to your own preference of food.
-Full Support as you settle your new family member in.
-Our diet sheet and advisory guide.

Please contact us for available kittens and planned litters.

We are inundated with enquires. Please see our website for more details and our adoption form.
We have a facebook profile 'Belle-Amiche Ragdolls' where we post up-to-date news and pics. Come join us!

Courier delivery can be arranged via a DEFRA registered courier based in Plymouth. We have used her frequently and she provides a first class service.

Prices vary depending on litter lines and unfortunately, since Covid struck, Registered Breeders prices have had to increase due to backyard breeders buying registered kittens and selling them on for as much as £3000.

At Belle-Amiche Ragdolls, we are still trying to keep our prices down to commensurate with the quality (pet/show), time, effort and rehoming package. Our kitten prices begin at £1000.