Sorry, you missed out
We found them a forever home
GCCF REGISTRATION DNA Tested parents HCM PKD clear pedigree ragdoll kittens in Sleaford


BeyondRagdolls
Posting for 11+ months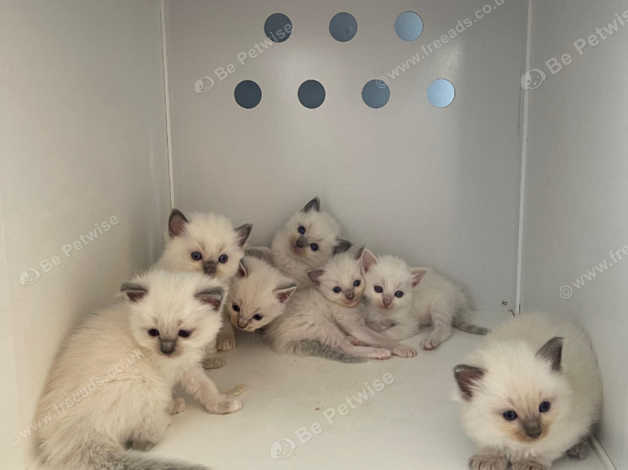 Pre-viewing deposits
Held securely by freeads
Help Us Support Pet Rescue
Required deposit
£174
Deposits collected
0 of 7
Description:
Our Queen Summer gave birth to 7 stunning and healthy kittens. They are 5 boys and 2 girls. Only selling as Pets to a perfect home, will not consider active. Kittens will come with our special prefix and you get to name them for their registration certificate. We are experienced breeder with 6+ years experience. GCCF registered prefix BEYOND

Kittens are eating the very best Royal canin dry food. They live with our females in a well socialised environment.

Kittens are:
Kitten 1 blue point boy(Reserved)
Kitten 2 blue point boy
Kitten 3 blue point mitted boy
Kitten 4 blue tabby point mitted boy(Reserved)
Kitten 5 blue point boy
Kitten 6 blue tabby point mitted girl(Reserved)
Kitten 7 Lilac tabby point girl

Mum and Dad are our beloved pets at home, Dad has won multiple awards with GCCF cat shows. Lots of champions and grand champions in our blood lines.

Both parents are GCCF active registered ragdoll, HCM and PKD tested negative, which mean our kittens are free from these diseases.

The kittens were born on 23/05/22, so they will be ready to new home from 22/08/22 when they are 13 weeks old.

Kittens will be come with GCCF registration document(non active), 5 weeks free insurance, vet check twice, full vaccination, regular fleece and wormed, and litter trained.

£150 (non refundable) deposit is required to secure your kitten. Viewing can be arranged or video call via WhatsApp, Facebook, wechat or Instagram.