Sorry, you missed out
We found them a forever home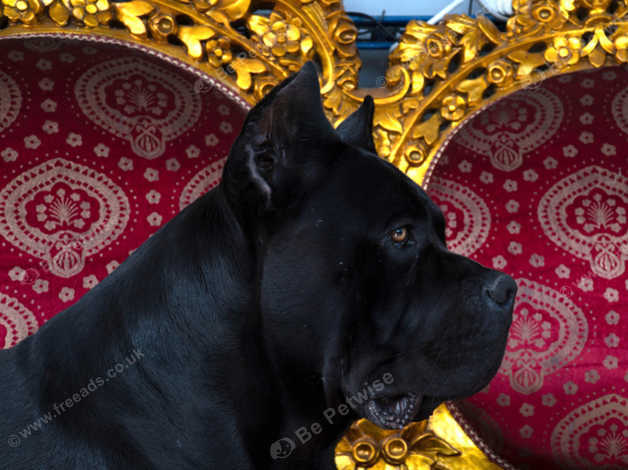 Description:
Our gorgeous blue princess just gave birth to a wonderful litter. She is true to type with very good bone and fantastic body structure. She is bigger than other Females Cane corso but with good athletic frame.
We register interest in 1 grey female as well as 1 black female - 2000£

We have another litter from my other female, just born on 7'th of August.... so you can enquire about that one as well. ( 5 boys and 4girls) We have got grey,black and brindle babies in this litter.

Dad is our big boned,chunky Black male with a perfect structure and very nice head. The quality of both mom and dad is TOP - they are a fantastic example of the breed.
Both parents are our family pets and both can be seen. They have very lovely character and very well socialised with other pets (dogs, cats, parrot, chickens) as well as kids.

The parents come from WORLD CLASS CHAMPIONS bloodlines with titles from : Romania, Serbia, Bulgaria,Bosnia and Herzegovina, Italy, Austria, Croatia, Poland, etc. Their bloodline is very special due to having Romanian, Italian, American blood, naming a few of the kennels in their pedigree.

Puppies will be weaned and on a premium raw diet. We offer advice on diet as well as other supplements suitable for this breed.

They will come with :
* Puppy health check
* de-wormed (every two weeks starting at 2 weeks old) as well as flea treated
* vaccinations up to date
* microchip
* contract of sale
* Mom's scented blanket
* Bundle of toys
* treats
* food
* Lifetime support

By the age of 4 weeks we are able to have FaceTime viewings for you to choose a puppy and afterwards we can have viewings face to face, following COVID regulations - so a face mask will be advised while visiting the pups in person.
We will not reserve puppies without a non refundable deposit of £500. Payments will be taken in cash or via bank transfer.
While you reserve a puppy from us, we are providing you with a invoice as well as weekly updates of your chosen baby.

Unlike other people (here in UK) that breed blue females with blue or formentino males to have more litters of predominantly blue or light coloured pups - we choose not to dilute them for health purposes as ,,dilute dogs,, carry a higher likelihood of skin problems including, hot spots, mange and CDA (it commonly affects dogs with blue or formentino coats).


Both parents are FCI registered & health checked.

Prices are between 2500£ - 3500£ and depends on the colour of the pup and sex - best to get in touch with me and I will get back to you with the price list for every single pup.

They will be ready to leave from 15'th of August , although if anyone has holidays booked already around that date but want to stick with one of our pups - we are more than happy to have them stay longer with us if the potential owner is away.

Sensible offers will be taken into consideration as long as we believe you can provide our lovely babies the perfect home environment for this specific breed - that's what is mostly important for us.