Sorry, you missed out
We found them a forever home
Gorgeous Cavapoo Puppies in Southgate

Morgan Papadopoulos
Posting for under a month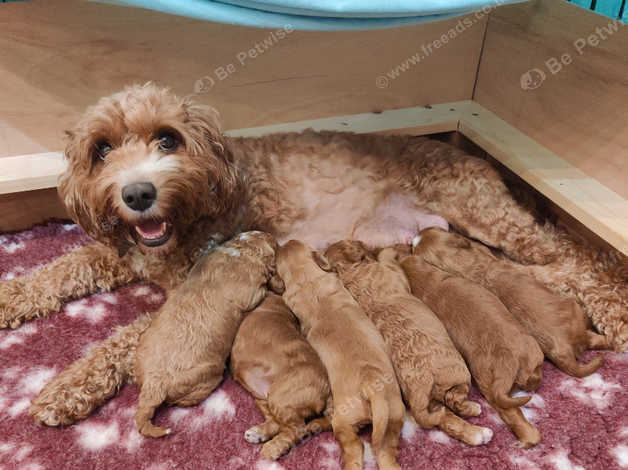 Refundable deposit scheme
You can now place safe, refundable deposits backed by freeads pets
using your credit or debit card with funds held until YOU release them.
Morgan Papadopoulos has chosen not to activate this
Read more >>
Description:
We are thrilled to announce the arrival of 6 stunning Cavapoo puppies! 4 girls and 2 boys, born on 11th September.

Mum is our family pet, Cora who is an F1 Cavapoo. The dad is a KC Registered Toy Poodle with a lovely temperament. The puppies are therefore F1b Cavapoos. Both have been extensively DNA tested and are completely clear of any hereditary diseases such as PRA. Copies of certificates are available upon request.

This is Cora's second litter, which we have carefully planned, having had her first litter last year. All of her previous puppies are thriving in their forever homes and we remain in touch with all of them. References are available upon request.

Cavapoos are excellent family dogs. Even as a puppy they are loving, friendly, extremely loyal and well-behaved. They are very playful, great with children, and love a good walk, but are not overly rambunctious. They do not shed, making them an excellent choice for those with allergies, or those who do not want dog hair around the house.

Cora has the most amazing temperament. She has 3 young human brothers with whom she is loving and affectionate with. Two of our sons are autistic and Cora has such a calming effect on them. Additionally, her playful nature provides endless fun, especially ball chasing as our sons love to play fetch with her. The puppies will of course be raised in our family home and will therefore be used to the common sights and sounds of family life and will be used to socialising with young children.

We are fully dedicated to giving these puppies the absolute best start in life. They are getting 100% of our love, care and commitment to raising well-socialised puppies. As a home breeder, they are part of our family, having been born and raised in our living room.

We have carefully planned Cora's litter and as a responsible breeder, I have completed online courses in Breeding, Imprinting and Bonding of Puppies with Humans for a Lifetime of Positive Interaction. The first 8-10 weeks for a new-born puppy are absolutely critical and I work hard to establish a strong bond between the puppies and humans and to stimulate the puppies to enhance their overall physical and mental development.

When you take a puppy home, I will remain a life-long contact for you if you have any questions or advice as your puppy grows. If unforeseen circumstances occur and you are no longer able to keep your puppy, I will happily take the puppy back to avoid the puppy being rehomed under unwanted circumstances.

If you are interested in one of Cora's puppies, or have any questions at all, please get in touch. I am more than happy to arrange a video call for you to meet us, and the puppies. You will be instantly reassured that the puppies are thriving in a loving home environment and that as a breeder, I am completely trustworthy. I appreciate contacting breeders online can feel like a risk but one video call with me will put your mind at ease. I will also ask you a few questions about your home life. We absolutely adore these puppies so it is crucial for us to have the reassurance that they are going to good, loving homes who can provide them with the love, affection and stimulus they need to thrive.

If everyone is happy to go ahead, we will ask for a deposit to reserve your puppy. When the puppies are 4 weeks old, we can arrange home visits for you to meet your puppy in real life. Once home visits have occurred, the deposit then becomes non-refundable. In the weeks between reserving a puppy and taking it home, I will send regular updates, photos and videos. I am also happy to arrange weekly video calls for you to see how your puppy is progressing.

Puppies will be ready to leave from the 6th November when they are 8 weeks. Puppies will be vet-checked, wormed, microchipped and had their first vaccination before leaving for their forever homes.

All puppies will come home with a puppy pack which includes:

Bag of puppy food (Royal Canin)
Scented Blanket
Puppy Toy

Please note that Boy 3 and Girl 4 are reserved.

We are located in Southgate (north London). My phone number is . Many thanks.