GENUINE SMALL TYPE COCKAPOO PUPPIES AVAILABLE in Iver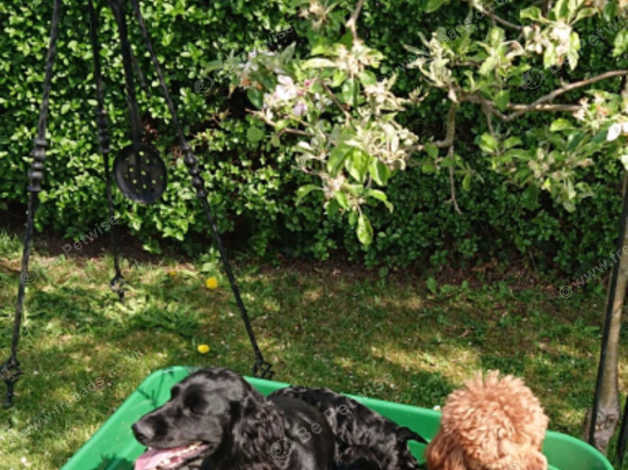 Description:
GENUINE SMALL TYPE COCKAPOO PUPPIES AVAILABLE

DEPOSIT'S NOW BEING TAKEN!!!

IF YOU WOULD LIKE THE OPPORTUNITY OF RESERVING
ONE OF THESE BEAUTIFULLY BRED & CEARFULLY PLAND F1 PUPPIES PLEASE GET IN TOUCH.

THEY WILL BE WELL HANDLED
BY CHILDREN & SUPER
CONFIDENT BEFORE LEAVING US
THEY WILL ALL LEAVE WITH THE FOLLOWING..

A FULL VETERINARY HEALTH CHECK

WILL BE MICROCHIPPED
& VACCINATED

WILL HAVE THEIR WORMING RECORD

VET HEALTH CERTIFICATE

A FEEDING SHEET

COPPY'S OF BOTH PARENTS
KC CERTIFICATE'S

PRA/PRCD CERTIFICATE'S

PARENT'S CLINICAL HISTORY

& AFTER COLLECTING YOUR PUPPY YOU WILL HAVE A SINGED CONTRACT
WITH 48 HOUR'S TO HAVE YOUR PUPPY CHECKED BY YOUR OWN VET
FOR YOUR REASSURANCE.

AFTERCEAR OFFERED FOR YOUR PEACE OF MIND

REFERENCES ARE AVAILABLE IF REQUIRED!!!

Mother is our lovely cocker Girl named mog,
this is her second litter
She absolutely loved being a mum to her first litter that she had Raised wonderfully without any problems
we had such positive feedback from her previous puppies & already have returning customers that have reserved puppies.

And now she has had her second litter of perfect healthy puppies.

She has a superb pedigree with many FTCH'S in her line's
She is the daughter of FTCH ORGEST YFWR"
& the grand daughter of the very well known
ARGYLL WARRIOR"
she has a lovely temperament towards human's & other dog's
& is in good clean health.

Charming charlie is the proud father he stands 11inches tall & is a fine example of his toy breed with perfect almond shaped eyes"
he is compact, has a nice level back" & incredibly beautiful strong solid build body structure"
He has many champions including
AUS" NOR" SWED"
Superb line's such as
PARASIENTA''
DAKATA''
SCHOOL PIECE''
He carries the Australian lines of deep red NON FADING BEAUTIFUL RED COAT!!
He is a cheeky little character but stands with such pride he's a ball of energy with fire in colour and has a wonderful temperament to match his personality!
Charlie has a kind loving nature & is absolutely brilliant with children.
He's in good clean health
treated with bravecto & wormed regularly"
is up to date with all his vaccinations"
He has been tested for

**PATELLA LUXATION **
**I LOCUS INTENSITY**
**VWD TYPE 1**
**RCD4**
**PRCD**
**PRA**
**DM**
**NE**

He has quite an impressive pedigree with some of the best red show lines WORLDWIDE!!

£250 DEPOSIT WILL SECURE

GENUINE ENQUIRIES ONLY PLEASE!!

NO WITHHELD NUMBER'S!!