Sorry, you missed out
We found them a forever home
Stunning cockapoo puppies in Rochester

Scarlet
Posting for 1+ month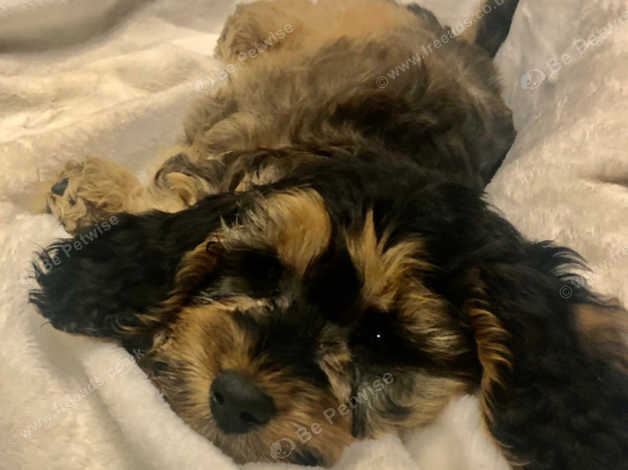 Description:
We have a fantastic litter of f1 cockerpoo puppies .

The whole litter is unique and stunning various colours girls and boys available.

Mum is our health tested show type English cocker spaniel.
Mum has the most sweetest kind character fantastic with children and other animals we have had her from a puppy and this is her first litter of babies.
She often enjoys swimming and loves her walks .
She will be here to meet and greet when you arrange to see the puppies.

Dad a sensational ruby red health tested miniature poodle stud .

Both parents test certificates can be seen upon visiting .

Puppies have been raised inside our home from birth and will remain in our open plan living room/kitchen until the leave is.
There a custom to all household noises.
Radio,tv,washing machine,hover etc.
They are well socialised regularly interacting with our guests and children .

There doing well with there toilet training and are progressing daily with this .

Puppies will be wormed precautionary at 2/4/6/8 with drontal puppy wormer.
Frontline for fleas will also be given before the leave us.

Puppies will be health checked vaccinated
And microchipped.
The only thing for you to do will be the 2nd vacation.

Puppies will come with there collar they have been using.
Blanket with mums scent
Toys with siblings scent
The food what they are currently eating.
Puppy guide

Your chosen puppy can be reserved providing a £250 deposit is placed.

Puppies can stay a little longer if needed but please discuss your requirements before visiting.
Please call to arrange to visit I'm happy to sender any further questions you many have regarding the litter.

Please do not visit other litters before ours as the health of our puppies come before everything and due to cross contamination from other litters we will be able to allow you to come sorry for any inconvenience but it's very important to us that they leave us healthy!

If you decide that one of our delightful bunch is for you we are happy to help with advise even once you have taken them home.
We would love to receive updates and follow there progress with there new families.