Sorry, you missed out
We found them a forever home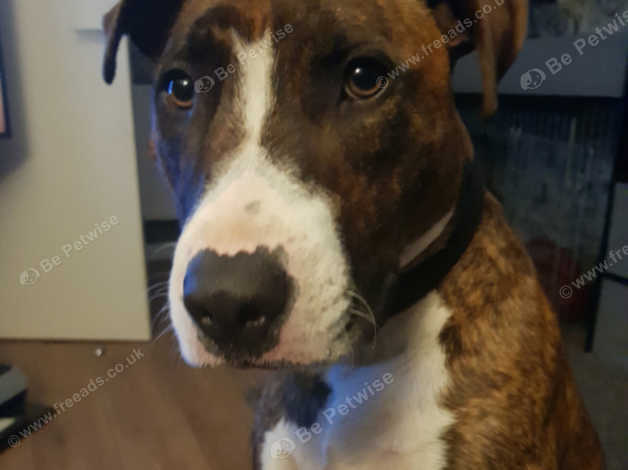 Description:
This is bronson he is 2yrs old and he is a English bull terrier x Staffy.
Is is all up to date with everything has book to confirm all that. He been done & microchipped.
Only had all up to date jabs done two wks ago.
He is in need be re-homed to a forever home. We are all truly gutted and very fussy where he goes as we do not want him passed around at all. He is well loved and looked after pup. Very alert. He is loyal and very loven and cuddle yet really playfully all in one.
Even thou he has been brought up around our other dog he now needs to be with no other dogs cats or any animals. (No other fur babies)
We are having keep the two dog separate atm as they no longer get on like humans maybe they fell out it's hard work and no way to have either of them.
So needs to be a only dog.
He gets walked with muzzle at all times, because as a pup he seen our other dog get attacked by four pugs while she was on lead and and since a that he has an attitude towards other dogs.
He will need to be homed with well fenced of garden 6ft all round ideally. Need someone who has experience with the breed really.
He has been brought up with me daughter who is 11 now, so he ok with older kids but bit jumpy for any under 5 as he very excitable and hypo bless him. He Is very loyal and cuddly follow u everywhere and also full character never dull moment with him around. I think I've told u all I have too So if you are up to mark then plz get in touch. Plz do not ask me for offers or can we lower price as this is hard enough and he is a dog not a item plz understand.
Also he still a puppy and had all his jabs and op and saves u that like when u do that and pay for puppy so plz be mindful many thanks .
Please don't ask any stupid questions when I've already said no dogs no cat no we wont drop price this is very upsetting and were tired people waiting out time.