Sorry, you missed out
We found them a forever home
Friendly 1 year old Brown and Tan Doberman for sale in Brighton

Moe
Posting for 10+ months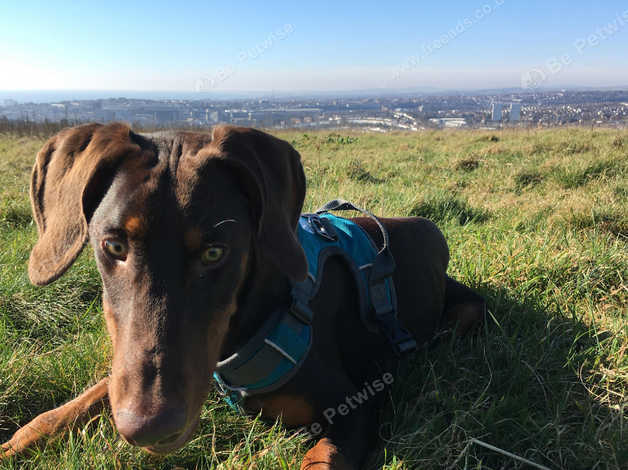 Description:
Sadly, I have to rehome Kobi my 1-year old Dobermann pup, due to changes in personal circumstances. He has a full pedigree with multiple champions down his line.

To give you a picture into his character, he breaks the stereotype of a Dobermann being intimidating and hostile as he is very friendly and playful with humans and dogs. Still being young, he is full of energy and enjoys going on long walks around local parks with his favourite ball.

As a puppy he has been:

Screened for Von Willebrand disease (VWD) and found to be clear.

His heart was tested and found to be healthy and strong.

Vaccinated until September 2019.

His parents hip scores were of a good standard indicating no genetic disposition to hip dysplasia which can be a common problem in larger dogs.

Included with him will be:
Food
Plenty of toys
Headcollar
Harness
Chain lead
A years supply of worming and flea/tick medication
Crate
Food and Water Bowls
General grooming items such as nail clippers, grooming brush, etc.

All paperwork is present as proof.

It's very important to me that he is rehomed permanently into a good home. He is truly a good dog with a lot of potential in the right hands as he has very quickly learned basic obedience while with me.

Please feel free to contact me for any further information.