Sorry, you missed out
We found them a forever home
Beautiful dark sable GSD needing rehoming in Grimsby

charlii.gledhill
Posting for 7+ months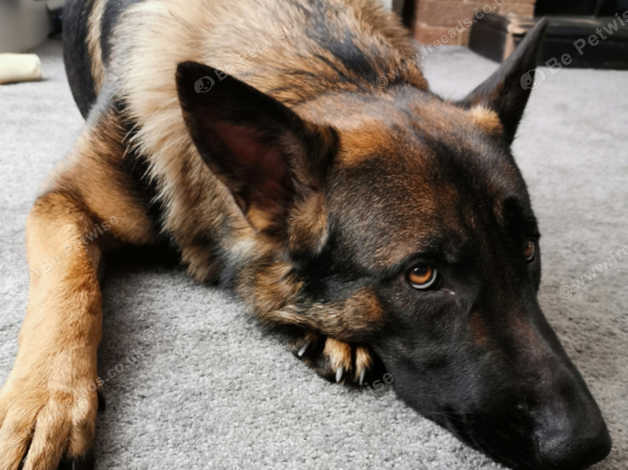 Description:
It is with a heavy heart and much regret that I am rehoming my beautiful boy.
Loki is a 16 month old short to medium haired, dark sable German Shepherd.
He has been with me since just 8 weeks old. Unfortunately due to an expanding family and other commitments I can no longer give Loki the love, time and attention which he deserves.
Loki is my best friend and has been such an incredible dog. He has brought so much joy to mine and my families lives and if there was a way of keeping him as part of my family I 100% would.
Loki is trained in all basic obedience, including sit, down, paw, he will also bark on command. While he isn't trained in protection he is a great deterrent and looks after his loved ones.
He loves to be outdoors, has a huge ball drive and loves his toys. He is incredibly affectionate and does require a lot of love and attention.

Loki can only go to a home which can provide him with the best level of care. I will only let him go to the right place, ideally a farm or somewhere with a lot of land so he can run around and explore. I do not want to let him go to a home where he will spend a lot of time on his home. He must go to a GSD lover, someone who will continue to disapline him but love him unconditionally.
He is okay with other dogs when properly introduced. He is a typical boisterous male and does like to make his presence known. But he has lived with another GSD and also a lab puppy and there has never been any problems. If he could go to a home where he had a play mate this would be great as he is very playful and caring but there would need to be time for proper introductions.
If someone is willing to provide Loki with the right home, love and care you will get the most affectionate and loving dog. He is so loyal and has such incredible personality quirks. He is a true friend and delight to have around but does need continuous discipline and control.


This ad is therefore for serious enquiries only.
The price is literally just what I paid for him as a puppy as I cannot put a price on him.

He is fully vaccinated and regularly wormed and fleed. He is on a raw diet which he loves but a different diet could be introduced, if done properly.