Sorry, you missed out
We found them a forever home
Labrador puppies from champion in Macclesfield Hodowla Cookson
Posting for 4+ months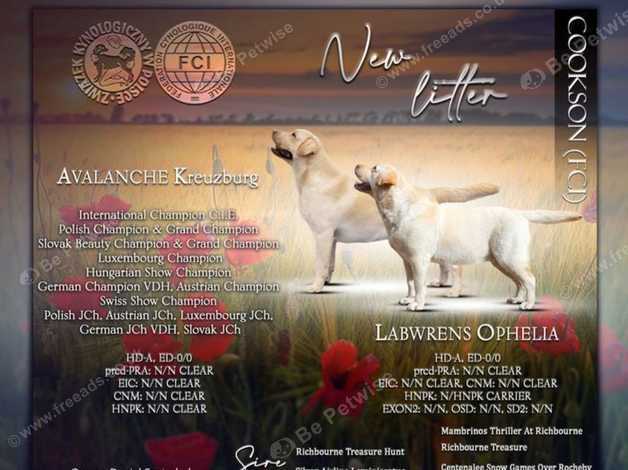 Description:
We have an honor to introduce to you our first full pedigree litter, which was born on 01.07.21. We are young breeders of the creamy labrador retrievers. The mother Ophelia Labwrens is a 2,5 year old bitch born in UK, Preston. A 5 generation certificate can be shown. From her early age she has been attended in behavioral courses. She is a really great friend and life companian. The father is Awalanche Kreuzburg, he is a working dog in Poland, with many titles from around the world. Example: International Chempion C.I.E, Polish Champion and grand champion, Slovak Beauty Champion and grand Champion, Luxeburg Champion, Hungarian Show Chapmion, German Champion, WDH Austrian Champion, Swiss Show Champion, etc. In 2018 and 2020 on the International Dog Show he won a title of the Most Beatuful dog in the world. He was chosen from 4000 different competitors. He is one of the most titteled dog in Europe. We have got 4 dogs and 1 bitch for sale.
Mother and father have been tested, free from all diseases (check litter advert). Puppies will be free to go, once they reach 15 weeks old. We are placed in Poland, but we give you all the essential documentation needed to transport our little babies. They haved been chipped, warmed twice and vaccinated and they are also registerd in KC. Each puppie will be given a blanket (family smell) bowl and toy. If you choose to buy a puppie from us you can be sure your dog will be strong, healthy, smart, socialized and ready to be a future champion.
If you would like to see our beatiful puppies please contact by email or phone number . (Kate).