Sorry, you missed out
We found them a forever home
Little diamonds pom poms in Rotherham


Quality
Posting for 6+ years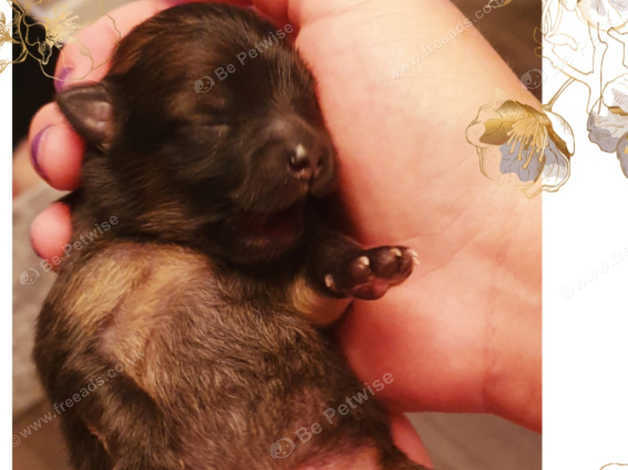 Description:
Pomeranian lovers!

We are so overjoyed to announce

Our adorable little arrivals

Just pure perfection

Mummy and babies are doing extremely well

Boy Black Beauty (Rare)
Boy Chocalate/Tan
Girl Chocalate/Tan
Girl Chocalate/Tan RESERVED

Superb colourings!

Fabulous thick dense coat
Short compact body
Teddy bear face
Let's not forget those adorable

Now let me tell you about our gorgeous sweet spoilt little lady!

Healthcheck Superb
Vaccinations all upto date
Cream/Orange sable
Short compact body
Adorable face
The most dainty elegent sassy girl you will ever meet!

Just beautiful inside and out!

Loves her cuddles loves her walks loves her pampering she really is just perfect!

Daddy Details:

Daddy pom: (STUD)
Superb Boy
Absolutely the perfect match!
Healthy
Astonishing coat
Beautiful face
Chocalate brown
Short compact body
Weight 1.6kg so tiny!
The most handsome sassy boy you will ever meet!

THE PERFECT MATCH

These little diamonds will be absolutely stunning in all aspects

Calls only please

Questions will be asked!

Full time care and attention will be given 24/7

All our poms will leave with the following:

Socialisation
Puppy pad awareness
Happy relaxed calm and also mischievous behaviour
Confidence is key
Eukanba/Royal canin puppy kibble
Treats yummy yum yum
Puppy Guide
All lawful requirements and so much more no expense is ever spared with my little darlings!

Lifetime of support!

Small deposit to secure

Covid cautioness will be adhered too!
My main priorities are keeping mum babies and ourselfs safe and well.

Cctv is constantly monitored!

Thank you!