Sorry, you missed out
We found them a forever home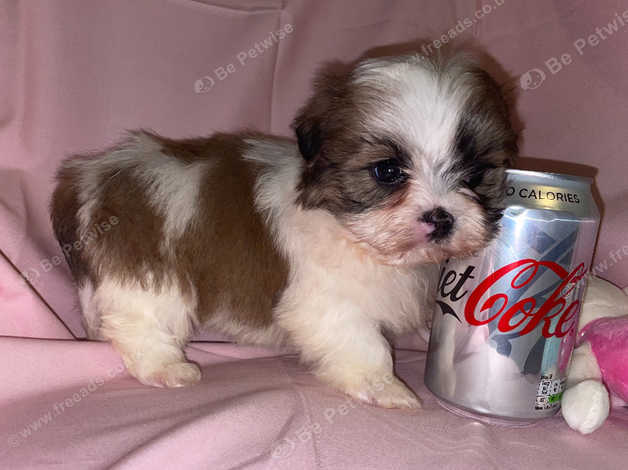 Description:
Hi thank you for viewing my advert

One girl left she is very small and loves snuggles

Lulu my girl who I have had since 8 weeks has had her first little of puppy's with her boyfriend who is a chocolate shih tzu .

Lulu has been a dream mother and has cared and loved her puppy's very much and I'm very proud of her . Lulu is a small Maltese she is 1 and a half years old and has such a playful loving character .

The puppy's dad is a full pedigree shitzu with a very good bloodline . He is also a small dog for his breed .

Both parents are healthy and happy and come from family homes with other pets and children .

The puppy's have the best quality's from both breeds they are very intelligent, affectionate and calm dogs but despite this they do still have a good amount of playful ness they love nothing more then to have a play and run around and then snuggle up on the sofa and have a snooze .

Our pups will come with first vaccinations , they will be microchiped and they will be wormed and flead.
Aswell as this you will also receive a puppy pack with your lovely pup this will include a small amount of food for you to use and also incorporate with a food of your choice should you choose to change from what they are having already , a small blanket with the scent of their mother and brothers and sisters , a small toy and some puppy pads to which we have been training them to use until they may be let out into the outside world .

Our pups are ready to leave now.

Due to COVID19 restrictions visits will only be given to people who are serious about having a puppy and giving them a forever loving home as I do not want people visiting my home unless they are certain . Visits will need to be socially distanced .

I will also wash the puppy's so that they are clean from any potential cross spreading of germs and for this reason also I will not be allowing visits unless you are aire to take the pup home with you because I don't not want to disturb them to much with constant washing and drying as it could irritate them.

If you have any other questions please do not hesitate to contact me .