Sorry, you missed out
This ad has already gone. Better luck next time
POL FEMALE QUAILS/1MALE! in Warminster Rose gray
Posting for 8+ months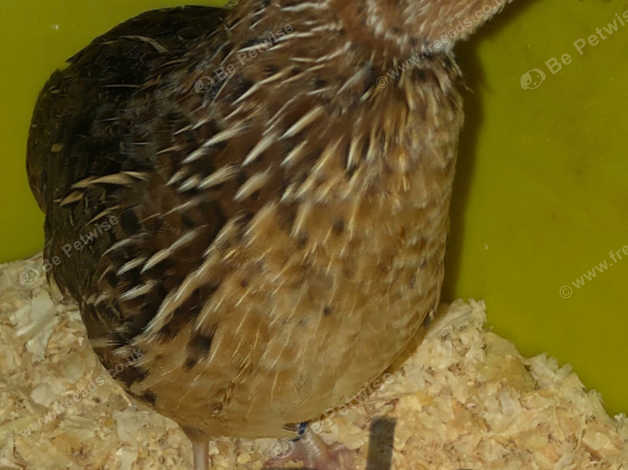 Description:
Here we have the last of our japanese quails that we hatched out with 74 others on Aug 25th.

We only have these 7 females & 1 male left, they are 9weeks old 4 have already laid their first few eggs at 8weeks old.

They are currently living indoors at room temperature but they will be fine to go start outside when they live as we have 6 from the same hatch that we are keeping that we have just put outside at 8weeks old & they are doing just fine.

Our breeding adults live outside in a big coop & are fed organic mixed corn/organic layers pellets & fresh salad & vegetables, they also love to eat meal worms & garden worms.

They also have oyster shell grit scattered over the coop ground so they can dig about it & eat, this helps the quails grind up & digest their food properly & helps their bones,also help the females lay nice normal eggs.

These 8 here that are in need of their forever home have eaten chick starter crumb from 24hrs old till 6weeks old since then they have been eating the organic food, but their food doesn't have to be organic it can be just normal.

These quails are
Females £10each
Or
All 7 for £60
Male £3 on his own.
Or male will go free with all 7 females.