Sorry, you missed out
We found them a forever home
Guinea Pig - SKINNY CARRIER / FEMALE in Weston-super-Mare

Annalea
Posting for 1+ year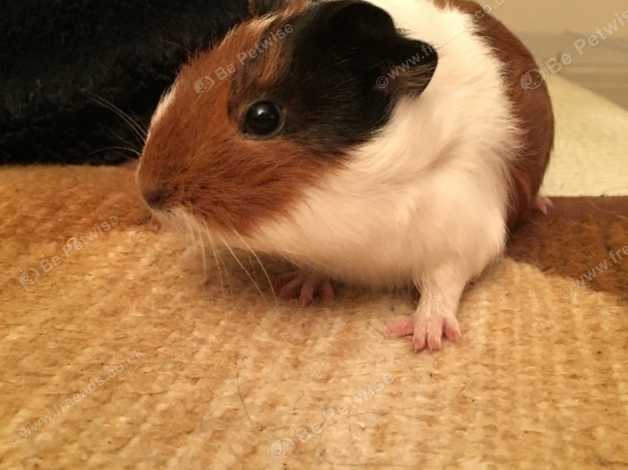 Description:
I have this beautiful tri-colour female guinea pig for sale who has just turned 8 weeks old and is now looking to find her forever home. Her mum is a beautiful brown and white abyssinian and her dad is a pedigree skinny pig making this girl a skinny carrier.( any extra information can be given if wanted ).

I have handled this girl since day one so she is already very friendly and loving which makes her a pleasure to handle. She is from a litter of all girls but as one of those girls are being kept it leaves her sister up for sale too , i'd be happy for her to be sold along with her sister if you're looking for a pair but if you're just wanting to take one of them that's fine too. She loves having attention and has never minded children fussing over her either ( any age ) which makes her great for a family pet. She comes from a animal household so if you already have existing animals in your household she should be perfectly fine.

I have had this girl on Harringtons guinea pig food which you should be able to pick up in any shop ( doesnt have to be a pet shop ) or if you'd prefer putting her onto a different brand you're more than welcome too and a small bag of change over food can be given to you on day of collection so you can switch her over without upsetting her tummy.

I live in weston super mare and asking for it to be collection only , unless you're local to me as transport is limited. I am asking for a small fee of £20 to ensure she goes to a good home where all her needs will be met and will be given lots of love and attention.