Sorry, you missed out
We found them a forever home
6 month old sprocker male pup in Falmouth

micacouch90
Posting for under a month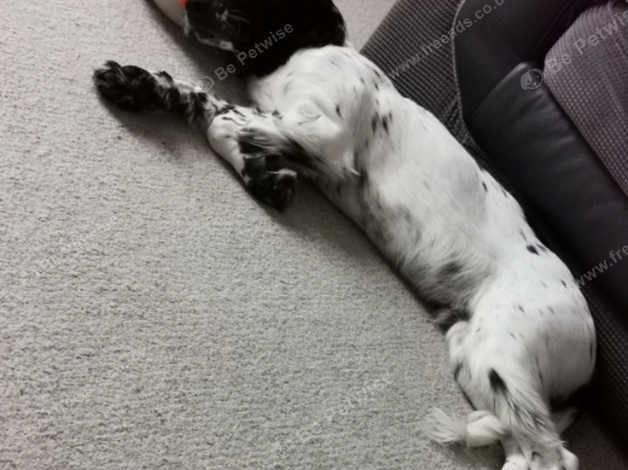 Description:
Here we have samson.
Hes 6 months old, he's a beautiful, sweet, loving, loyal and intelligent pup.
He does so well at commands, doesn't bark much at all, fully toilet trained, great off lead in a field or costal path, always comes back and great with other dogs off lead.
Hes absolutely great with other dogs, he loves them, absolutely loves all adults and will give you so much love and kisses.
The reason for rehoming is due to the fact he's not great with children,
We have had him since his first weeks and we have a 5 and 10 year old who have been amazing with him but he feels uncomfortable around them at times, we have had a behaviourist in and did a few weeks of training with them which did help gain there trust in them. But has since he growling and edge has come back again only onwards them. Not all the time, but dependant on his mood.
Having spoken to our behaviourist again and with his age and the fact m children are becoming anxious we have decided the best thing for samson would be o rehome to an 16+ household. So he can relax.
He really is the most beautiful loving little pup. Out and about off lead he wouldnt look at children or worry about them at all, he would love hugs. It's mainly around his bed or guarding issues.
He will come with car and house crate, cover, 2 beds, lots of leads, brushes, food, shampoo etc.

His does have ibs in dogs and has to have a certain brand of hypoallergenic food and then he's right as rain.
And questions please please message.
He will make the best best friend.
To make sure he gets the best home and comes with all his belonging he will be priced for this.