Sorry, you missed out
This ad has already gone. Better luck next time
Rocket By Stagg Full Size Drum Kit with Meinl HCS Cymbals - Full Starter Kit in Birmingham


aman_sood
Posting for 8+ months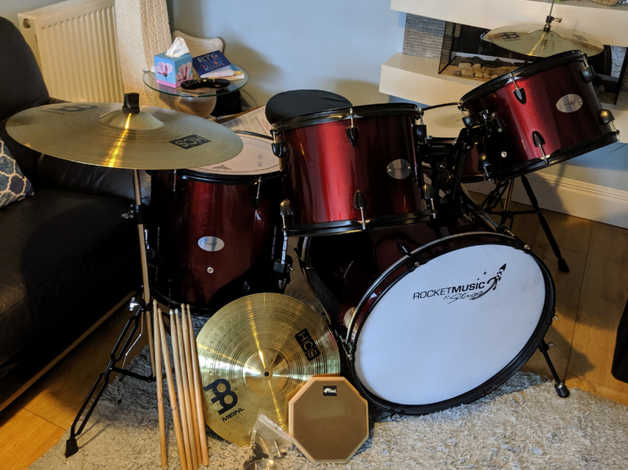 Description:
Excellent starter drum kit perfect for beginners that has been kept in a great condition and had upgrades along the way.

The full bundle is as follows:

Rocket by Stagg Drum Kit: (Worth £224.99)
22 inch Bass Drum, 2 Mounted Toms, Floor Tom, Snare
Complete with all Hardware, drum stool, Bass Drum pedal and sticks
Drum Key + Assorted Spare Parts
Meinl HCS Cymbal Set: (Worth £159.00)
14" hi hat pair
16" crash
20" ride
Drum Heads: (Worth £99.80 all together)
Remo Emperor X Coated Dot (£19.90)
Remo Pinstripe Pro (£63.90)
Percussion Plus Bass Drum Head (£16.00)
Drumsticks: Rocket By Stagg 5A, Zildjian Dave Grohl Signature Sticks, Generic 2B sticks (All the sticks are heavily used and just meant to start you off until you purchase your own pair)

Finally, Bundle comes with a tiger practice pad

The entire bundle is worth £483.79 if purchased brand new!

From the drum kit product page:

This superb quality full size 5-piece drum kit is ideal for adults as well as older children (age 9 and above). This is a well-made, hard-wearing kit designed to withstand a lot of practice. It features a classic rock configuration with 22-inch bass drum, 2 mounted toms, floor tom, snare drum, hi hat and crash cymbals. Designed with the beginner in mind this is a popular kit which comes in a striking red finish.The perfect present for the budding drummer. Includes throne and sticks.
The drums are made from a good quality 6 ply Basswood construction and feature the classic Rock configuration of 22-inch bass, 12 and 13 inch toms, 16 inch floor tom and and 14-inch wooden snare. The hardware (the metal bits!) is double braced meaning it is much more sturdy and durable than the cheaper single braced option often supplied with student kits.
This combined with the chunky rubber feet ensures rock solid stability.
Hardware included includes tom holders, snare stand, hi hat stand, cymbal stand, bass drum pedal and Drum throne (stool!). The cymbals again fit the classic Rock configuration.
Finally, the kit come supplied with a pair of sticks, drum key (for tightening the skins). This Drum kits take up approximately a 6ft Squared Space on your floor when set up.

From the cymbals product page:

Meinl are a very well-respected cymbal brand within the drum world, with many famous artists choosing their ranges. The HCS cymbal range offers the same level of quality as Meinl's higher end ranges but at a realistic price for beginners. Made from brass alloy, these cymbals don't just sound amazing they look great too. If you want a warm cymbal sound that will slot into any musical style including pop and rock, the HCS is a great range for you.
Often starter kits will come with terrible quality cymbals that look and sound like flimsy biscuit tin lids. Meinl know that drummers need cymbals that they are confident in to allow them to play the best they can. That's why they created the HCS range, to allow entry level drummers the ability to play quality cymbals.

The drums themselves are in excellent condition, as is the drum hardware. Drum Heads are visibly used and therefore do have markings on them but they still have a lot more life in them. Cymbals are also visibly used but again have much more life in them. The 12 inch tom is also missing one 56mm tension rod on the resonant head. All the components have been dusted and cleaned before listing, but may still be dusty in places, or accumulated dust depending on how long they take to sell
Finally I'm not accepting returns on this, this is because the item is pickup only and it's much easier for both of us if you have a check whilst collecting, and if you don't like it I'll cancel the order upon collection! :)

If you have any questions feel free to ask me!