Sorry, you missed out
This ad has already gone. Better luck next time
Marine set up in Bury

Andy
Posting for 6+ years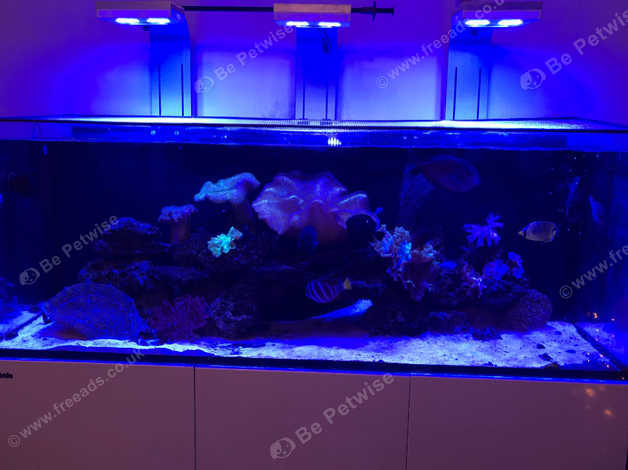 Description:
Selling my marine tank set up. Real show piece well looked after and has everything needed to run easily.
Redsea reefer 450 wrapped in white vinyl sump tank and topup tank. All original boxes, manuals, spare parts etcfor components available
Redsea 300 new protein skimmer
AI hydra 26 wifi lights x3 with tank brackets
Max spec gyro 200 and controll module ( gyro pump damaged by a small starfish so stripped. Module works fine)
Dd reactor
Vecton UV steriliser
AI NERO wifi pump
TMC return pump
2x Aqua one heaters
Small sump pumps x 2 running reactor and steriliser on separate feeds.
Loads of testing kits for everything
Electronic PH tester and TDS meter
4x 25ltr water drums
Cleaning kits of all kinds.
Stock is 2x unicorn tangs (large) (SOLD)
1 Indonesian sailfin tang average size
1 bristle tooth tang
3 black dominoes
1 raccoon butterfly
1 pink lobster
1 harlequin shrimp
1 large bristle tooth star fish
1 file fish
2 paired saddleback clowns (SOLD)
Blue cromis
Green cromis
1 cucumber
At least 10+ hermit crabs
4 zombie snails
1 large turbo snail (SOLD)
Corals consist of 3 leathers 1 is very large that I've grown for a few years
Cauliflower
2 mouse ears 1 is large
Elephants ear at least 50cm open (SOLD)
2 bubble tip anemone (1 SOLD)
Mushrooms
Gold tips and various other pieces which the names evade me. Pictures can be sent of any pieces.
I am prepared to sell pieces separate but can not sell any equipment until all the stock has gone. This includes all the live rock.
No time wasters please, this is an amazing tank and only for sale as I unfortunately don't have the time for it's upkeep anymore.
I'll happily answer any questions you have and respond with any separate prices on the fish, corals and rock if interested.
Viewing welcome, photos don't do it justice. Open to reasonable offers.